Hotels and Motels near Barksdale AFB, Louisiana
---
Barksdale Air Force Base is located in the northwest corner of Louisiana, just southeast of Bossier City and Shreveport. There are many nearby hotels and motels located within a few miles of the Base along I-20.
Barksdale is home to the 2d Bomb Wing and the 8th Air Force.
To find on-base temporary lodging at Barksdale AFB, please click
here
.
Hotels near Barksdale Air Force Base
Closest hotels – as the crow flies – are listed first.

Days Inn Bossier City


200 John Wesley Blvd, Bossier City, LA 71112

1.6 miles



From $63
See Rates

Rated Average Cheap motel near I-20 at Barksdale Blvd

3 floors, 176 rooms - elevator

Outdoor swimming pool open in summer

Free continental breakfast

Free Internet in room

Free parking

Value Place Hotel Bossier City


2275 Old Minden Road, Bossier City, LA 71112

1.7 miles



From $210
See Rates

Rated Very High Budget, all-suite, extended-stay hotel

Near I-20 at Barksdale Blvd

4 floors, 121 studio suites

No swimming pool

Kitchen in every suite

Internet access costs $10 per stay up to 7 nights

Free parking

MainStay Suites Bossier City


1001 Gould Drive, Bossier City, LA 71111

1.7 miles



From $72
See Rates

Rated Average Midscale, smoke-free, all-suite, extended-stay hotel

Near I-20 at Barksdale Blvd

2 floors, 72 suites - no elevator

Outdoor swimming pool - exercise room

Kitchen in every suite

Free continental breakfast

Free Internet in room

Free parking

Hampton Inn Bossier City


1005 Gould Drive, Bossier City, LA 71111

1.7 miles



From $104
See Rates

Rated Very High Midscale hotel near I-20 at Barksdale Blvd

4 floors, 123 rooms - AAA 3 Diamonds

Outdoor swimming pool - exercise room

Free hot breakfast buffet

Free Internet in room

Free parking

Quality Inn & Suites Bossier City


2717 Village Lane, Bossier City, LA 71112

1.8 miles



From $59
See Rates

Rated Average Midscale hotel near Barksdale Air Force Base

4 floors, 102 rooms and suites - AAA 3 Diamonds

Outdoor swimming pool - exercise room

Free continental breakfast

Free Internet in room

Free parking

TownePlace Suites by Marriott Bossier City


1009 Gould Drive, Bossier City, LA 71111

1.8 miles



From $93
See Rates

Rated Very High Midscale, smoke-free, all-suite, extended-stay hotel

Near I-20 at Barksdale Blvd

4 floors, 101 suites

Outdoor swimming pool open in summer

Exercise room

Kitchen in every suite

Free continental breakfast

Free Internet in room

Free parking

Microtel Inn & Suites by Wyndham Bossier City


2713 Village Lane, Bossier City, LA 71112

1.8 miles



From $63
See Rates

Rated Average Cheap hotel near Barksdale AFB

4 floors, 101 rooms and suites - AAA 2 Diamonds

No swimming pool

Free continental breakfast

Free Internet in room

Free parking

La Quinta Inn Bossier City


309 Preston Blvd, Bossier City, LA 71111

1.8 miles



From $69
See Rates

Rated Average Midscale motel near I-20 at Barksdale Blvd

2 floors, 130 rooms - no elevator

Outdoor swimming pool open in summer

Free continental breakfast

Free Internet in room

Free parking

Hilton Garden Inn Bossier City


2015 Old Minden Road, Bossier City, LA 71111

1.8 miles



From $98
See Rates

Rated Very High Upper-midscale, smoke-free, full-service hotel

Near I-20 at Barksdale Blvd

4 floors, 177 rooms and suites

Outdoor swimming pool - exercise room

Restaurant - lounge - room service

Microwave and refrigerator in every room

Free Internet in room

Free parking

Homewood Suites by Hilton Bossier City


2015 Old Minden Road, Bossier City, LA 71111

1.8 miles



From $126
See Rates

Rated Very High Upscale, all-suite, extended-stay hotel

Near I-20 at Barksdale Blvd

4 floors, 114 suites

Outdoor swimming pool - exercise room

Kitchen in every suite

Free hot breakfast buffet

Free Internet in room

Free parking

Country Hearth Inn Bossier City


1984 Airline Drive, Bossier City, LA 71112

1.9 miles



From $64
See Rates

Rated Average Cheap motel near Barksdale AFB

2 floors, 120 rooms - no elevator

AAA 2 Diamonds

Outdoor swimming pool open in summer

Free continental breakfast

Free Internet in room

Free parking

Americas Best Value Inn Bossier City


1836 Old Minden Road, Bossier City, LA 71111

1.9 miles



From $54
See Rates

Rated Very Low - Not Recommended Cheap hotel near I-20 at Barksdale Blvd

3 floors, 114 rooms - elevator

Outdoor swimming pool

Free continental breakfast

Free Internet in room

Free parking

Rodeway Inn & Suites Bossier City


3033 Hilton Drive, Bossier City, LA 71111

1.9 miles



From $50
See Rates

Rated Low - Not Recommended Cheap motel near Barksdale Air Force Base

2 floors, 245 rooms and suites - no elevator

Outdoor swimming pool - exercise room

Free continental breakfast

Free Internet in room

Free parking

Super 8 Hotel Bossier City


3101 Hilton Drive, Bossier City, LA 71111

1.9 miles



From $50
See Rates

Rated Average Cheap motel near Barksdale Air Force Base

2 floors, 105 rooms - no elevator

No swimming pool

Free continental breakfast

Free Internet in room

Free parking

Crossland Economy Studios Bossier City


3070 East Texas Street, Bossier City, LA 71111

3 miles



From $56
See Rates

Rated Average Budget, all-suite, extended-stay hotel

Near Barksdale AFB

3 floors, 117 studio suites - elevator

No swimming pool

Kitchen in every suite

Free Internet in room

Free parking

Ramada Inn & Conference Center Bossier City


4000 Industrial Drive, Bossier City, LA 71111

3 miles



From $63
See Rates

Rated Average Midscale hotel near Barksdale Air Force Base

2 floors, 200 rooms and suites - no elevator

Outdoor swimming pool - exercise room

Microwave and refrigerator in every room

Free continental breakfast

Free Internet in room

Free parking

Econo Lodge Bossier City


4300 Industrial Drive, Bossier City, LA 71112

3 miles



From $45
See Rates

Rated Average Cheap motel near Barksdale Air Force Base

2 floors, 165 rooms - no elevator

Outdoor swimming pool open in summer

Free continental breakfast

Free Internet in room

Free parking

Diamond Jacks Casino Resort Bossier City


711 Isle of Capri Blvd, Bossier City, LA 71111

3 miles



From $115
See Rates

Rated Average Midscale, full-service, casino hotel

Located in downtown Bossier City

12 floors, 570 rooms

Outdoor swimming pool - fitness center

3 restaurants - lounge - room service

Casino

Free Internet in room

Free parking

Travelodge Bossier City


740 Diamond Jacks Blvd, Bossier City, LA 71111

3 miles



From $45
See Rates

Rated Average Cheap, downtown Bossier City motel

3 buildings - 2 floors, 200 rooms - no elevator

Outdoor swimming pool

Microwave and refrigerator in every room

Free continental breakfast

Free Internet in room

Free parking

Comfort Inn Bossier City


1100 Delhi Avenue, Bossier City, LA 71111

3 miles



From $63
See Rates

Rated Average Midscale, downtown Bossier City motel

2 floors, 77 rooms - no elevator

Outdoor swimming pool open in summer

Microwave and refrigerator in every room

Free hot breakfast buffet

Free Internet in room

Free parking
Map of Hotels near
Barksdale Air Force Base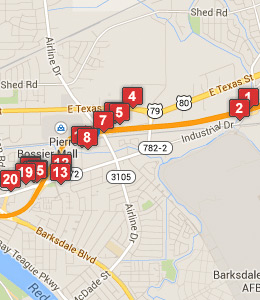 Barksdale AFB Info


Barksdale Air Force Base

Closest Airport:

Shreveport Regional Airport - SHV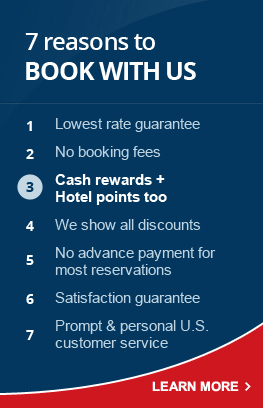 Hotel Tips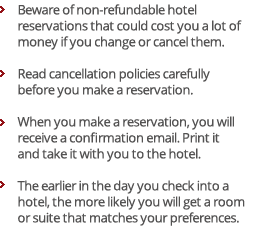 Military-Hotels.us
Hotels near
Air Force Bases
Air Force Academy CO Hotels
Altus AFB OK Hotels
Andrews AFB MD Hotels
Barksdale AFB LA Hotels
Beale AFB CA Hotels
Bolling AFB DC Hotels
Brooks City-Base TX Hotels
Cannon AFB NM Hotels
Charleston AFB SC Hotels
Davis Monthan AFB AZ
Dover AFB DE Hotels
Dyess AFB TX Hotels
Edwards AFB CA Hotels
Eglin AFB FL Hotels
Eielson AFB AK Hotels
Ellsworth AFB SD Hotels
Elmendorf AFB AK Hotels
Fairchild AFB WA Hotels
Goodfellow AFB TX Hotels
Grand Forks AFB ND Hotels
Hanscom AFB MA Hotels
Hickam AFB HI Hotels
Hill AFB UT Hotels
Holloman AFB NM Hotels
Hurlburt AFB FL Hotels
Keesler AFB MS Hotels
Kirtland AFB NM Hotels
Lackland AFB TX Hotels
Langley AFB VA Hotels
Laughlin AFB TX Hotels
Los Angeles AFB CA Hotels
Luke AFB AZ Hotels
MacDill AFB FL Hotels
Malmstrom AFB MT Hotels
Maxwell AFB AL Hotels
McChord AFB WA Hotels
McConnell AFB KS Hotels
McGuire AFB NJ Hotels
Minot AFB ND Hotels
Moody AFB GA Hotels
Mountain Home AFB ID
Nellis AFB NV Hotels
Offutt AFB NE Hotels
Patrick AFB FL Hotels
Peterson AFB CO Hotels
Pope AFB NC Hotels
Randolph AFB TX Hotels
Robins AFB GA Hotels
Scott AFB IL Hotels
Seymour Johnson AFB NC
Shaw AFB SC Hotels
Sheppard AFB TX Hotels
Tinker AFB OK Hotels
Travis AFB CA Hotels
Tyndall AFB FL Hotels
Vance AFB OK Hotels
Vandenberg AFB CA Hotels
Warren AFB WY Hotels
Whiteman AFB MO Hotels
Wright-Patterson AFB OH